I have 22 Douglas Rims (some with tires) available make an offer they came off of a Coyote kart.
Rims/tires
6-8.75
6-7.25
2-6X6
4- 4.5X5
Two of the 4.5 rims have brand new Dunlop KT8 tires
4 of the rims do not have tires (6x6 & 7.25)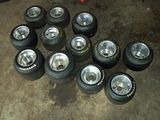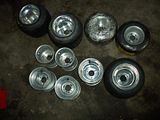 4 Laydown Seats
Price: $25 each or make a offer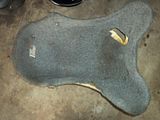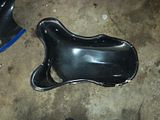 3 sets of Renegade Bodywork
Price: $75 a set or make a offer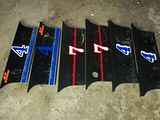 HF Blue Clone Engine, It is disassembled may need a new crank. complete minus Flywheel, comes with Top plate, two side covers, clutch both drums are in poor condition and clutch may need rebuilt.
Price:$125 or OBO
http://i126.photobucket.com/albums/p99/trigun7469/1381522395_zpsd0391bed.jpg
http://i126.photobucket.com/albums/p99/trigun7469/1381522390_zpsfec285ef.jpg
http://i126.photobucket.com/albums/p99/trigun7469/1381522392_zps76badeaa.jpg
http://i126.photobucket.com/albums/p99/trigun7469/1381522389_zpsc3a13650.jpg
http://i126.photobucket.com/albums/p99/trigun7469/1381522277_zpsea584287.jpg
Vega Helmet Size L has some chips on it. Price: Make a offer
http://i126.photobucket.com/albums/p99/trigun7469/1381522214_zpsac7dc121.jpg
http://i126.photobucket.com/albums/p99/trigun7469/1381522213_zps9d852352.jpg
http://i126.photobucket.com/albums/p99/trigun7469/1381522208_zps8fb37c6a.jpg
http://i126.photobucket.com/albums/p99/trigun7469/1381522200_zpsb56a041d.jpg